I am currently looking to expand my current course, How to Start, Grow and Manage a Business to include workshops. I will be sharing a course description and course outline (and possibly more) with educational institutions and not for profit corporations. I will inform all recipients of that information that I am providing this information so they can make a decision on whether or not to proceed with a course. I am also informing all recipients of that information that I retain all rights to those materials and that they cannot use that information unless (1) they are proceeding with a course with me and (2) that I retain my rights to continue to use those materials as I see fit. If the recipients of that information wan press relt to proceed with me on a course and need to own their course descriptions, they must re-write the information provided in such as a way that clear ownership of that material remains with me.
The purpose of this web page is to post the information I am providing to potential course partners to establish my copyright. I am also amending a press release distributed online September 14, 2015 to include a mention of the materials and the address of this web page.
Here is the material provided to potential partners (so far this has been provided to Palm Beach State).
Existing course write-up and outline:
How to Start, Grow and Manage a Business
Studies have indicated that 50% of all businesses fail in its first year and five years down the road only 10% to 33% (depends on study) are left standing. The two main reasons for business failures are lack of a business plan and poor management. This course was specifically set up to help entrepreneurs in these two vital areas. The topics covered in this course include: business plans, strategic planning, marketing & branding, management, customer service, sales skills, cash flow management, sources for obtaining funds, risk management, elevator pitch, and more. This course is for individuals looking to start a business, entrepreneurs in young businesses, and owners and managers in seasoned businesses looking to grow their businesses. The course uses lectures and videos (Shark Tank, Family Guy, Mystery Diners, actual commercials, etc.) to help get across the key points taught in this class.
Required text book: Building a Successful Business by Jay Goldberg
COURSE OUTLINE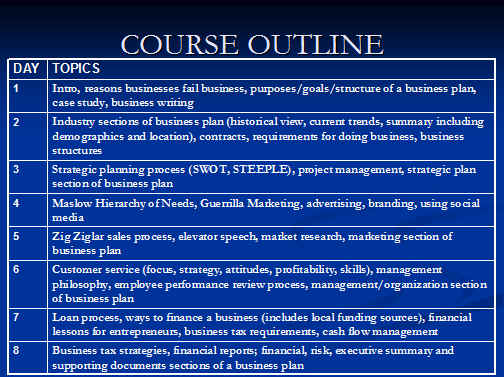 The course outline is from the PowerPoint Presentation.
Here is what I would add for your location (the workshops):
In addition to learning what to do, this course includes workshops where the participants in this class get individual direction and mentoring while generating work product that can be used in their businesses. Participants need to bring a flash drive to the workshops so that they can keep all tools developed in class. This makes this course a learning experience, a productive work day, and a source of consulting services at bargain rates. The workshops in this course will cover:
1. Industry analysis and industry section of the business plan.
2. SWOT analysis and strategic plan section of business plan
3. Advertising and branding strategies and work product (includes online branding tools and press releases)
4. Sales scripts, elevator pitch and specific market research tools
5. Marketing plan section of the business plan
6. Management strategies (including customer service strategy) and management section of the business plan
7. The financial section of the business plan and a funding strategy
8. Risk section of the business plan, executive summary section of business plan and cash flow management reports
Please note 3 weeks for marketing topics – everyone loves marketing
© September, 9, 2015 (date sent in email to contact at Palm Beach State for information purposes only; not for their use without permission)
Posted online September 15, 2015 (same date updated the press release).
Click here to return to main page. Click here for the press release that mentions this web page.
Also here (second source with addendum in original press release with automated date generation).